School board president faces backlash for calling Harvey Milk a 'pedophile' | California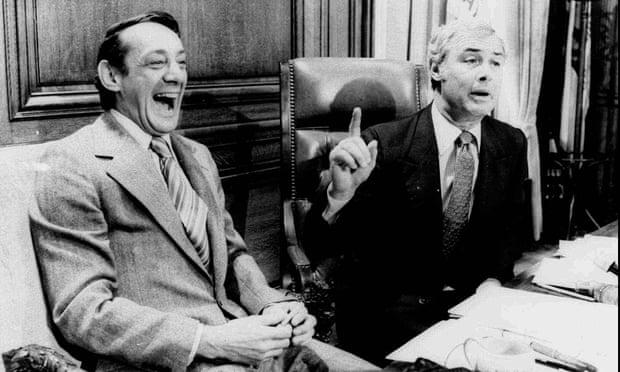 The president of the Temecula school board in California is facing a backlash from educators, parents and state officials after calling gay rights activist Harvey Milk a "pedophile".
At the school board's 16 May meeting, the board president, Joseph Komrosky, objected to an elementary social science curriculum that included Milk, the first openly gay man to be elected to public office in California, in its supplemental materials. "My question is, why even mention a pedophile?" Komrosky said, echoing a conspiracy theory that falsely accuses gay people of molesting children at higher rates than heterosexual people. When meeting attendees protested that Milk was not a pedophile, Komrosky said: "I beg to differ."
Komrosky and two other school board members then struck down the social science curriculum in a 3-2 vote that leaves the district without a textbook for the coming year.
California's governor, Gavin Newsom, sought to differentiate between California and more conservative states in a 3 June tweet that took aim at Komrosky.
"An offensive statement from an ignorant person. This isn't Texas or Florida," Newsom wrote. "In the Golden State, our kids have the freedom to learn. Congrats Mr Komrosky you have our attention. Stay tuned."
Komrosky, Jen Wiersma and Danny Gonzalez, the three school board members who opposed the curriculum, were all backed by the Inland Empire Family political action committee. The Pac says its goal is to "support conservative candidates who will stand for parental rights".
Komrosky did not immediately respond to a request for comment. At the meeting, he called Milk's inclusion in the educational materials a "form of activism". Some of the board members raised concerns that parents had not received sufficient information about the curriculum or enough time to review it and provide feedback.
The One Temecula Valley political action committee, which says its goal is to promote "stable, responsible candidates", started a petition calling for Komrosky and Wiersma to resign from the school board and for Gonzalez to be censured. The petition was created ahead of the 16 May meeting, but continues to gather signatures.
","styles":"